Post Bath Half 2010 (02/04/2010)

The official results have all been published for the half marathon and can be found here. My official time is 1:43:41, and I finished number 2289, which is slower than last year, but I am still happy with the result.

My official photos can be found here along with a video of my crossing the finish line.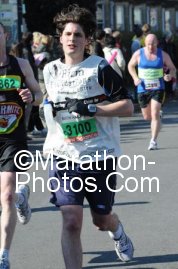 In total I have raised £300 for Firm Foundations which will go towards the building fund.
Bath Half 2010 (07/03/2010)


Today was the Bath Half marathon, the weather was good, the sun was out but it was very cold, especially in the shade. There was a freezing breeze in places, although the centre of Bath is quite protected as it is in a valley. I was a little nervous because I was unsure of how my legs would hold out, and cold weather can make muscles tighten up more easily. I tried to start at a comfortable pace, and ease myself into the race. I found myself slightly slower than I would've liked after the first couple of miles, but I was able to increase my pace, and was soon able to get back to comfortable 8 minute mile splits.


I warmed up well, but there were still places around the course that were in shade, or the wind, where it was quite cold. My energy levels started to drop earlier than I was hoping for, probably due to my reduced training this year but I was able to use my jelly babies to help me maintain my pace.

After about 10 miles I was able to feel my calf muscles tighten a bit, but I found was able to keep a good pace, although I had hoped to go faster in the closing stages and wasn't able to. I am not yet sure how much I have raised, I will find out when all the sponsorship money is in. Overall I am pleased with my time of about 1:43:30 this year, my legs do not feel to bad at the moment, but I expect I will feel them tomorrow!
Pre Bath Half 2010 (20/02/2010)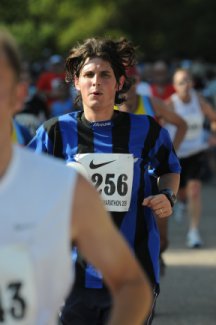 The Bath half marathon is on the 7th of March (2 weeks away) and I am running it in aid of Firm Foundations again this year (to donate click here). I have just been out for my longest training run (12 miles) and have come back exhausted. I have been struggling with a calf injury for the whole of winter training and have not been able to reach the same level that I was at last year. The last few weeks have been quite difficult because I have had to step up the distance rapidly to be able to be ready for the half marathon at all.


Despite battling with an injury I have just about managed to get my training back on track, and I am managing to run a fairly steady 8 minute mile. This is considerably slower than last year but hopefully will translate into a finish time of about 1hr 45.

Over the next 2 weeks I will try to increase my speed slightly to try and ensure I can get under 1hr 45. I will run three 6.5 mile runs this week, and then only a couple of 3 mile runs the following week as I taper my training in order to be best prepared for the half marathon.


Post Bath Half 2009 (30/03/2009)

The official results have been posted for the Bath Half 2009, and can be seen here. My official time is 1:39:56, just inside my target (2 seconds slower than my watch timed it).

The official photos have been published, some of which are below. The others, along with a video showing me crossing the finish line, can be seen here. There is also a picture of me crossing the finish line.




In total I have raised £265.50 for Firm Foundations. Thanks again to everybody who contributed


Bath Half 2009 (15/03/2009)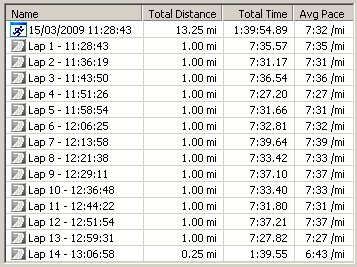 Today was the Bath Half Marathon, my training did not go particularly well over the last two weeks. After running 12 miles my legs did not seem to recover very quickly, and I had some pain in my right calf muscle in particular. I didn't run at all in the last week (my final training run was last Sunday), and my legs slowly recovered during the week. Despite this, I was not confident when starting, because I was not back to 100%. I also caught a sore throat which triggered my Asthma. I increased my medication, but it did not shift very quickly, and my runs were affected. Fortunately I slowly recovered and, although I was not back to 100%, I was confident that it wouldn't affect me in the race.


It was quite warm today, almost too warm, the sun was shining, and I tried to keep in the shade where possible. I started the run further forward than I did last year, in fact I was actually too far forward, and for about the first mile, I was being over taken. I started slowly, because I was not sure how well my legs would hold up, but once I got into the run they were ok. Because I started further forward I did not have to avoid many other runners in the initial stages, so I could ease myself into the race. I was aiming for 7:30 minute miles, and I was a little slower to begin with, but I was able to keep a consistent pace as I continued, and I didn't lose too much time. As I got further into the race, I started to feel the pace, and the heat. I had a handful of jelly babies in my pocket which I ate as I was going, and it kept my energy levels up. As each mile went past, I thought I might start to run out of energy, but it did not happen, my pace stayed consistent.

As I got closer to the end I could tell that I was going to be close to my 1hr 40 target, and I was able to increase my speed slightly, although I did not have enough energy to manage a sprint finish. Ultimately I finished in a time of 1hr 39mins and 54 seconds (on my watch, the official results have not been published yet). I am pleased and slightly surprised that I managed to achieve my goal, my training paid off in the end! I will add another post once the official results and photos have been published, and once I know how much sponsorship money I have raised.


Pre Bath Half Update (01/03/2009)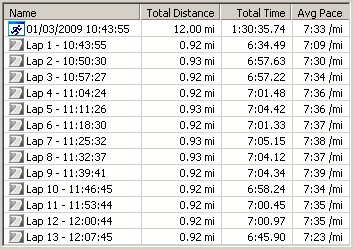 I will be running the Bath Half Marathon is on Sunday 15th of March 2009 in aid of Firm Foundations again. I have continued training for most of the time since the London Marathon although I did have a break over the summer. Since September I have been working towards the Bath Half, this year I am aiming to complete it in 1hr 40, which is a speed of around 7min 30 per mile.

I usually run three times a week, twice after work in the evening (my 'short' run), and once at the weekend (my 'long' run). Since Christmas I have been trying to increase the distance of my long run towards the full half marathon distance, and increase the distance of my short runs so that each short run is about half the distance of the long run. I have been running my short runs at the faster pace of 7min per mile, and my long run at 7min 30 per mile.

Today I ran my final long run before the half marathon. I ran 12 miles in 1hr 30, which is just about on track for finishing the race in 1hr 40. It took a lot out of me, but I think that I should be able to make the extra mile in two weeks time. Looking at the distance from last year, it was actually 13.22 miles, which is why it will take a little bit longer. This week I will run my normal short runs, but at a slower pace to try and better prepare for the race. I will then run 6.5 miles next weekend, and then even shorter runs the following week to try and be as fresh as possible for the race.


Final Total (12/05/2008)

I have now collected (almost) all the money, and have worked out the final total for sponsorship.

£1282.75

All sponsorship will go to Firm Foundations. Thankyou to everybody who contributed, your money will make a difference.


Running Update (20/04/2008)

The official photographs have been published, you can buy them from here.

The first photo looks like it was taken when it was raining, the rain was cold, I look in pain. The second is nearer to the end, I don't look as bad. The next picture is me at the end, unfortunately I was standing behind someone at the end, so there isn't really a good photo of me. The last photo is the official photo taken after the race.

I am still getting sponsorship money in, so I don't know exactly how much I have raised. I will update the site again once all the money has been collected.


London Marathon (14/04/2008)

We left early on Saturday morning, as planned, to go to London and register for the marathon. The important thing was to get to the ExCel centre and register before 5pm. The journey was quicker than expected, we got to London earlier than anticipated, and decided to go straight to the ExCel centre. The traffic all the way was light, and when we got to the centre it was very quiet. The queues were short, and we were able to get registered before 12!

On Sunday morning I got up around 7 to have breakfast, and we left just after 8. Rachel and Mum dropped me off as near to the start as we could drive, and I walked the rest of the way by myself. I was able to find my way to the right place easily, everything was well signed and marshalled. The run started at 9:45, although it took me over 7 minutes to get across the start line.

I enjoyed the first 10 miles, I was running well, but not pushing myself, the weather was good, and I was able to take in the atmosphere. Just after 10 miles my legs began to start hurting, and it started to rain heavily. It had been quite warm at the start, but I was glad that I was wearing my long sleeve running top, as the rain was very cold. The rain shower lasted for about 2 miles, by that time I was wet through.

I went past the half way point in just under 2 hours, about 9 minute mile pace, which was about what I was aiming for. However my legs started to hurt more after that point, and I had to start slowing down. At mile 16 I dropped my pace considerably but despite that at mile 18 I had slowed to a painful trudge which continued for the rest of the race. At that point my energy levels were getting quite low, but there were various people handing out sweets from the side of the road, I had a few of them, and I think I managed to avoid hitting "the wall" because of that.


Once I got to mile 22 I became more positive, because I knew I could make it to the end from there, although my pace did not improve. I have never run as slowly as I did at the end, but I got into a good rhythm, and I think it would have been more painful if I had walked. Just after mile 24 it started to rain again (just as I had dried out from the first shower!), and that lasted until near the end. I was relieved when I finally went round the last corner, and could see the finish not far in front.

Maybe if I had started a bit slower, I would have been ok towards the end of the race, but at the time I didn't feel like I was running very fast, and it was the slowest half marathon I have ever run. Apart from aches and pains, and a couple of blisters, I seem to have escaped relatively unscathed. Thanks to all those who have sponsored me, I think I have raised over 500 pounds for Firm Foundations, but I still have not counted all donations.

My official time is 4:28:19, and can be seen here. More photographs may follow when the official ones are produced.


Pre Marathon Update (10/04/2008)

Today I did my final training run, I only ran about two miles, the final part of tapering before the big run. I have done less running than I planned over the past few weeks, I have been making sure that I don't aggravate my calf muscles too much. Despite this they are still not back to 100%, and I felt my right calf a bit today, I think this was partly because it was quite cold today, and I only did a short run. Hopefully in the marathon, if I start slowly, my legs will warm up properly.

I have been eating large bowls of pasta every day this week, in order to build up energy for Sunday. The weeks of training seem to have gone by quickly, although I am happy that the hard work is behind me, and look forward to the run. I am quite excited, and also nervous, there are still quite a few things to do before I reach the start line. I have to travel to London and register on Saturday, to collect my race number, and make sure that I get to the right place at the start (there were 35000 runners last year, so it will be very busy), after that it's easy!

On the right is a summary of all the training I have done since Christmas. The number of miles increased each week up until the half marathon, after which I had to take most of a week off, because of my legs. Since then I have been careful and tried to maintain my fitness, without overdoing it. In total I have run about 288 miles since Christmas, and after the marathon I will have run over 300 miles.

Because my training has not been ideal since the half marathon, I don't think that I will be able to run the marathon in under four hours. Running 9 minute miles will finish in 3:54, and running 10 minute miles will finish in 4:20. I think I will finish somewhere in between, but I will try not to worry too much about time, and try to enjoy the run.


Running Update (30/03/2008)

It is two weeks since the Bath Half marathon, and two weeks until the London marathon. The past two weeks have been frustrating, it took much longer to recover from the Half marathon than I had hoped. My calf muscles in particular were very sore for a number of days after the race. I suspect in part because there was no chance for a proper warm down afterwards, due to poor race organisation.

I was unable to run properly all week, and went for a short run on the Friday, but ended up with painful legs again afterwards. I had to give up the idea of doing a 20 mile run, and have only run a few shorter runs this week, but my legs seem to be recovering better now. I went for a 4 mile run this morning, and feel fine afterwards. There is not much time left now, so I won't be doing any longer runs, I will probably build up to a 6 mile run next weekend, and take it easy the week before.

The official results from the Bath Half can be found here: http://www.runninghigh.co.uk/site.aspx?i=ph0&bib=9994 and there are several more photos from the run as well.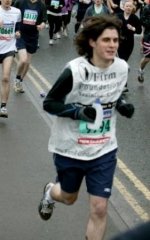 Bath Half (16/03/2008)

Today was the Bath half marathon, I have been quite nervous all weekend. The race was delayed for an hour because of difficulties with the medical tent, and there was a lot of standing around in the rain. Luckily the rain passed before the start, so the weather was quite good for the race.


I was aiming for 1:45, but when the run came I never really got into a good rhythm. I started quite far back, and for the first few miles I was running around other slower runners. After 2 or three miles there was more space to run in, but I didn't get into stride, and my right calf started to hurt. After that I pretty much gave up on running for a faster time, and just tried to keep at a reasonable pace.

After half way I was able to run a bit faster, my legs felt a bit better, but I couldn't find a consistent pace. I was aiming to do 8 minute miles, but in my recent training I have been running 8 and a half minute miles and I kept slipping to that pace. At the end I did not feel to bad, I still had enough energy to sprint to the line. My time was 1:49:57 (according to my watch, official photos and times will be published tomorrow), which is not too bad.

I will try to get back to more normal training this week, hopefully my legs will recover quickly. This will be the last week of full training, ending in a longer 20 mile run, before I begin to taper my training for the marathon. I will probably take it easy for the first bit of this week, and ease back into more regular training.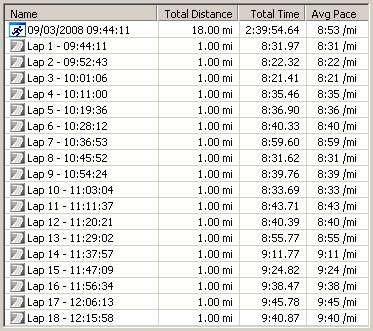 Pre Bath Half Update (12/03/2008)

The last week and a half have been quite difficult. When I went on my run after running 18 miles I felt like I had no energy in my legs at all. I could not run properly and ended up stopping earlier than I had planned. I tried to rest and let my legs recover, running slightly smaller amounts, and I delayed my next long run until Sunday, to get another days rest. I've also developed a pain in my left knee, which hurts after I run, but it was quite bad after my run on Thursday.

When I went for my second 18 mile run my knee was still not fully recovered, I don't think that I was even fully recovered from running the previous weekend. I did the run in a very similar time to the previous week, but it felt quite a bit worse. My knee was hurting on and off most of the way, and I ended the run with my calf muscles in quite a lot of pain as well. I am disappointed in the fact that I did not manage to improve on last week, even going backwards slightly. It makes me wonder how fast I will be able to do the half marathon on Sunday, because I have not been at my best for a while.

I got my final instructions for the London Marathon on Tuesday, which has raised my spirits. It reminds me that most of the training is behind me, and I just have to put the last bit of effort in, and then taper the training before the marathon. This week I am trying to take it easy, and not running much at all. I have just got back from a run today, I only ran about 3 miles, and I'm not planning any other runs this week. My legs are feeling ok, although still not 100%. Hopefully the extra rest will mean I am as recovered as possible for the half marathon, I still want to run a good time, my best 13 mile time so far has been 1:46:22 three weeks ago (as the first part of my 16 mile run). I want to at least beat that time, and still aim for 1:45, although a lot will depend on the weather on Sunday.
Running 18 Miles (02/03/2008)

Despite skipping a run on Thursday (the first time I have missed a run in four or five weeks), I still did not feel at 100% going into my run yesterday. Running 18 miles feels like going up another step, and I decided to start at a slower pace than in previous runs, to make sure I made it through. Unfortunately I could not maintain the pace for the whole run. I started to run out of energy after about 13 miles, and the last section of the run was slow and painful. It was probably not quite as bad as when I ran 13 miles a few weeks ago, but only because I am more experienced now, and knew what to expect. I was absolutely exhausted after the run, and ache all over. I don't think I am quite ready for a full marathon yet!

My time was slower than I had hoped for, I plan to run 18 miles again next weekend, and hopefully I will be able to maintain my pace for the whole run. Despite this, a time of 2 hours 40 minutes for 18 miles means that I could run 10 minute miles for the remaining eight miles, and finish the marathon in around four hours. My aim is to finish in under four hours, which still looks achievable. The marathon magazine says that you should be able to run at least 15 miles before attempting the marathon, but I think that 18 miles is a more realistic distance. Even though there is still a big difference from 18 to 26, I can now start to believe that I can finish the marathon.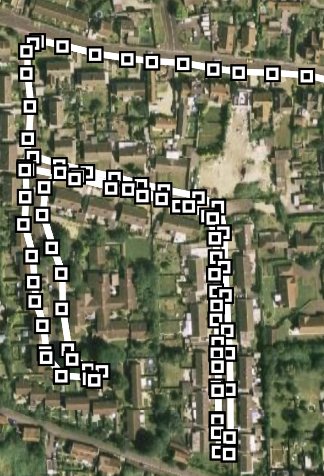 Running In Street (28/02/2008)

Yesterday we were in Street, and in the afternoon I went running from grandad's house. I ran seven miles, and the map of where I ran is on the left (click to enlarge). At the end I ran the last half a mile around the roads near the house, because wanted to make a full seven miles (see right). Most of the run was on single track roads up towards Glastonbury Heath, but I also had to run alongside, and cross the main road.

I decided not to run today, as I am still quite tired out from yesterday, and my legs are feeling a bit sore. I am also planning on running 18 miles on saturday, and think that the extra day of rest will make it easier.
Running Update (as of 24/02/2008)

There are now three weeks to go until the Bath Half marathon. After running twelve miles in a time of 1:36, I set the target of doing the half marathon in 1:45. In the week 4th - 10th of Feb I increased the amount of running that I was doing, running 3 times up and down the hill twice, and adding a fourth run (once up and down the hill). I also decided to increase my longer run to thirteen miles, to avoid a three mile increase in distance the next week. The long run on the 9th was the worst run I have done so far, I ran out of energy after about eight miles or so, and ran my self into the ground in the last five miles. This was not only very painful, but also destroyed my morale. In hindsight I think that I increased my running too much that week (an increase of about 6 miles over the week), and was fatigued going into the final run. The times that I ran in the mid week runs were slower than the previous week, and although I started the thirteen mile run at the same pace as the previous twelve mile run, my speed dropped so much that my total time was 1:50.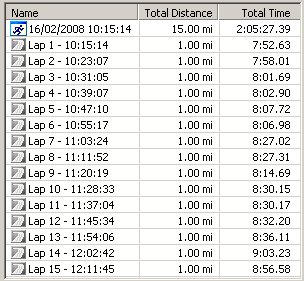 At the beginning of the week 11th - 17th of Feb my morale was low, and I was tempted to reduce the amount of training. I forced myself to run three times up and down the hill on Monday, and was surprised that I did it in less time than the previous week, and will no ill effects. I decided to switch the positions of my other runs, so that the shorter run was on Thursday, giving me more of a rest before the longer weekend run. My second run went even better than the first run, getting close to beating the 1:00:50 set previously. On Thursday it was light enough in the evening to move my third run to the field again where I ran three laps in a good speed. The training guide advises trying to run on softer ground sometimes as it reduces the level of impact on your legs. Running around the field also reduces the strain on my calf muscles, because the field is fairly flat. After what happened the previous week I approached the longer run with caution, attempting to run fifteen miles, I decided that I would probably have to reduce my speed to ensure that I could make it round without burning out. However, still aiming to run the half marathon in 1:45, so I could not reduce the speed too much. The run was much better than the previous week, I reduced my speed after six miles to 8:30 per mile to make sure I did not run out of energy before the end. I managed to keep this speed up to thirteen miles, but could not go much further, and the last two miles were quite painful again. It was an improvement over the previous run, the thirteen mile time was 1:47:27.

On Monday this week I finally managed to beat my previous three lap record, and get the overall time down under on hour for this run. This is a sign that I have recovered from over training a couple of weeks ago, and that at some point it may be time to increase my mid week run distance again. I am reluctant to do this at the moment, and will do it with caution (and in small steps) when the time is right. My Wednesday run was also a good time, and in my shorter Thursday run I managed an average a pace faster than 8 minutes per mile. I think part of the reason that the thirteen mile run was so bad was because when I started to run out of energy, my technique went as well. In order to maintain good technique, and keep my speed consistent, I need to remain focused, even when I am very tired. This week I ran 16 miles for my long run, I was able to run a good pace, and maintained it to the end, the thirteen mile time was 1:46:22. I am more positive again now, having come through a tough period. My target distance for next weekend is 18 miles, which is another significant jump. I plan to do two weeks at this distance before the Bath Half the following weekend, so I may run next week at a slower pace from the start to make sure I can get to the end, and try to increase the pace again the following week.
Running Update (as of 02/02/2008)


After updating this page last week I started to feel unwell with a sore throat and feeling generally washed out. Due to this I decided to wait an extra day before running, and not to add a fourth run this week. Still on Tuesday I was able to run three times up and down the hill that we are on in a reasonably fast time (see right), considering this was the first time I have run this distance mid-week.

This is the graph for the Tuesday run showing three times up and down the hill. My second run this week on Thursday was a much slower run (and only twice up and down the hill), I was not feeling well again, and did not have much energy. Hopefully I will be able to fully recover for next week, and may be able to add a fourth run, and maybe run three times on both of my main runs.
Although I was not well on Thursday, I improved a lot on Friday, and felt able to run today. As planned I went into the middle of Bath to run along the canal path, and then the Bath-Bristol railway path. This meant walking about two miles down the hill to get to the start of the run, and then back up the hill afterwards.

The map left shows where I ran (click to enlarge). The conditions were good today, dry, with little wind, although it was quite cold. I was able to run well, running six miles towards Bristol, and back again. The path is flat and mostly tarmac, which should be god practice for both the Bath half marathon, and London marathon as they are both quite flat. I plan to use this path for all my remaining long runs if conditions are good.
As can be seen by the statistics from this run, I was able to maintain a steady pace, keeping at about 8 minutes per mile, which is currently my target pace. I also managed to run the first ten miles of this run in under 8 minute mile pace, and faster than the time that I ran 10 miles last weekend. Next week I may try and add an extra mile, so that I have run the full half marathon distance.
Running Update (as of 26/01/2008)

Several people have expressed an interest in seeing this site updated, and I have just completed another run, so here is an update. Last weekend I ran for 10 miles, the training is starting to get more serious now. My plan is to have two weeks at each distance from here, so this weekend I have run 10 miles again, and next weekend will be the first of two weeks running 12 miles.

We are at my parent's house this weekend so I have had to do a completely different course today (see left, and click on this map to see a larger image). I have never even walked along this course before so I was a bit unsure of what to expect, there are a few places where there are gates across the path, and opening them slowed me down quite a bit.

I was able to run 10 miles by using the Forerunner to tell me when I had run 5 miles then turning around and running back the way I had come. I also used a different feature called 'auto lap', which means that it would count every mile I ran as a lap.

The weather was good today, and for the most part I was able to maintain a good pace, faster than last weeks run.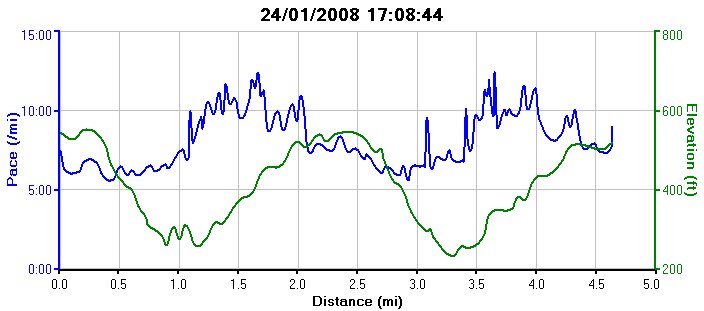 My midweek runs have been progressing over the last couple of weeks. Since creating this page, I have been running two laps of the run down the hill that we live on. The graph left is data from a run on Thursday when I finally managed to run faster than before Christmas, single lap time of 18:55, and two laps in a time of 37:41. The second lap is slightly shorter than the first lap so the first lap was run at a faster pace.

With a planned run of 12 miles next weekend, I am planning to extend one of my midweek runs to 3 laps of this course (which will be close to 7 miles, and take me about an hour). I may also try to add a shorter (at first) fourth run this week (currently I am doing two midweek runs and a longer weekend run, but will try to extend it to three midweek runs with a longer weekend run). As long as there is good weather, I will try to run along the canal path next weekend for my first 12 mile run. I will probably update the page with information from this run.
Running (as of 07/01/2008)

This is a page about the running that I am doing, and showing some of the information that I have been able to collect using my new Garmin Forerunner 205. I am training for the Bath Half Marathon on 16th of March, and the London Marathon on the 13th of April.

The map to the left is the data I have collected from one of my runs, as displayed in Google Earth. This run is the run that I normally do in the evenings after getting in from work, and involves running half way down the hill that we live on, and back up again. The distance for the run shown is 2.33 miles.


The data the Forerunner collects is quite accurate, and (as shown on the right) it is possible to zoom in close to see which side of the road I was running on.

Before Christmas I was doing two laps of this run, but I have not been able to do more than one lap since being Ill. I hope to start doing two laps again sometime this week.


The graph shown to the right shows the pace that I was running at, and the elevation. So it is possible to see where my pace drops as I come back up the hill.


It is also possible to produce graphs which display the gradient of the hill, and it can then be seen that I (obviously) run slower when the slope is steeper.

This graph is also shown by time, rather than by distance, as the correlation is more distinct when shown this way (It takes longer to run up the steeper slopes).

The second run that I am currently doing (at the weekend), is to run around the Odd Down playing fields. The map can be seen to the right. The data from these runs shows that one lap of the playing fields is around 0.92 miles.

My weekend run is the most important run, because it is the "long run". Last weekend I ran 8 times round the field to get over 7 miles of running in. That is the furthest I have run so far. Next week I aim to go once more around the field to get 8 miles, and the week after next 10 miles.

Once I am running further than 10 miles I may run along the canal path / Bath to Bristol cycle path instead, as running around the field that many times is a bit dull. The Forerunner will be important when I start doing that, as it will be the only way to tell how far I have run, and when I can start coming back.

Here are the statistics from the run I did on Saturday. The Forerunner has a lap facility, so I can see how fast I did each lap around the field. As you can see I was progressively slower for each lap.

I did the same run before Christmas (8 times around the field), but I was able to maintain a steady pace. Hopefully I will be able to improve, and get back to where I was quickly.


Here is the pace graph for the 7 mile run. Even though the field is quite flat, the small amount of slope means that my pace seems to vary quite a lot as I go round.